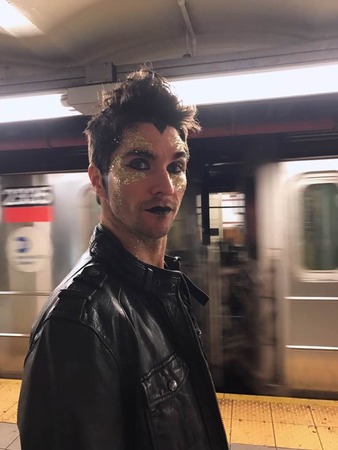 BRIAN VIGLIONE
No one was more surprised than us that in 2009, we were so fortunate to include Brian Viglione in a production.
Thanks to our mutual friend Little Miss Rollerhoops, Viktor Devonne and Femme Fae La Butche were able to talk Brian into a show-long cameo at 2009's The Candyland Brothel at Wicked Faire. His role was simple: man in the chair who has beautiful women crawl all over him. However, through his facial expressions and body language, he stole the show, and we couldn't be happier for it.
Brian Viglione was a major inspiration to the formation of White Elephant Burlesque, with a style that Viktor Devonne could only attempt (they both owned a lot of striped stockings in 2008), while he was first making waves with Amanda Palmer as the beloved dark cabaret band The Dresden Dolls. Known for their powerhouse live performances of songs like "Sing," "Coin-Operated Boy," "Girl Anachronism," and "Backstabber," the Dolls came to prominence within the burlesque scene in no small part by their insistence of including a "brigade" of performance artists, striptease performers, and theatrical beings as part of their shows.
Rollerhoops, Fae and Viktor were members of the brigade (which quickly became an interactive, devoted street team), and helped promote their album Yes Virginia at Webster Hall, and at other locations including FUSE and at Virgin Megastore. They were also part of live promotions at Amanda Palmer's solo concerts during her Who Killed Amanda Palmer tour.
Brian only appeared with WEBurlesque once but continues to make a solid impression on our legacy, with fond memories and fans who say it was the first burlesque show they had ever seen. Indeed, the Candyland Brothel show itself shaped how White Elephant Burlesque saw themselves, and presented its longform concept shows.
In honor of Brian's contribution, in-house lingo was developed: the person who sits in the chair to be seduced or roughed up by the main performer on stage was henceforth known as The Brian -- criteria including that this person must strain to give as much personality as Mr. Viglione did in his performance. Not required: the striptease into gold leggings that Brian surprised us all with at the very climax of Candyland. But it wouldn't hurt.
Mr. Viglione has also worked with Nine Inch Nails, the Violet Femmes, HUMANWINE, and Scarlet Sails, his latest project with his wife Olya.