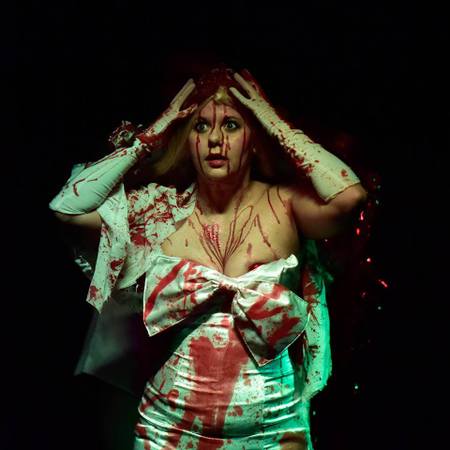 HOLLY WEEN
PHOTOGRAPHED BY SANDY KAUFMAN
• nominee: Quality Kitten
• nominee: Versatile Visionary
• nominee: Strangest Thing
• nominee: Theatre Majeure
• honored: Entertainer of the Year
• winner: Bed Wardrobe
• winner: Grandmaster of Grandeur (w/ Broody Valentino)
• nominee: Most Utterly Ridiculous
• nominee: Creepy Creature Cutie
• nominee: The Chameleon
• winner: Comic Genius (w/ Tiger Bay)
• nominee: The Many Faced God/Meryl Streep Award
• nominee: Geek of All Media
• nominee: Keeper of the Sacrilicious
• nominee: Master of the Macabre
• nominee: The Great Showstopper
• honoree: Life Sentence Award
• winner: Perfectly Cromulent
• winner: Backstage Mom (shared w/ Anja Keister)
• nominee: Most Darksided
• nominee: Fall Risk
• nominee: Most Epic
• nominee: Stage Kitten's Nightmare
• nominee: Least Like Dita
• nominee: Master of the Sweep
Holly Ween is WEBurlesque's Scream Queen or Miss October All Year 'Round, bringing horror and camp to the world of burlesque. Holly has been performing since 2008 and is known for her elaborate costumes and off-the-wall acts.
Holly created Cosplay Burlesque in 2008 as a way to get started in the burlesque scene, and directs and performs all over the nation with them.
In addition to her home troupes, White Elephant Burlesque Society and The Noir Dames, she has performed with D20 Burlesque, Homo Erectus Boylesque NYC, Speakeasy Burlesque, Brunswick Basement Burlesque, Full Front Street, Looking Glass Revue, and Liberty City Kings -- just to name a handful!
Holly is a tremendous resource for costume-making and cosplay creation, and has been on several panels to discuss a range of nerdy topics.
• participant: Queen of NJ
• winner: WTF Award (for her Alien Queen act)
• honoree: Psychotic Erotic Engineering Award (for her Alien Queen act)
• Top 3
• winner: Miss Vagina Dentata 2013