P. NoNoire and Samson Night, our 2022 Entertainers of the Year
Hello lovers of love!
I hope you are doing well as 2022 comes to a close. I am celebrating it with the 7th annual Silver Tusk Awards nomination process, and round 1 begins November 25th!
It is time for WORLD DOMINATION; so this year, folks can nominate their burlesque & nightlife colleagues & inspirations (and themselves, let's be real) from all over the world. Of course, we encourage tasteful campaigning only.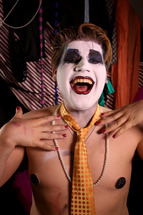 Final winners will be announced in January 2023 after round 2 of voting.
>Winners' prize packs include gifts from Elektra Cosmetics, WEBurlesque Podcast, & more via our generous benefactors & sponsors + traditional Silver Tusk Award charm.
You'll find the ballot box here for both rounds. See you there; let's make this the best yet.
Fondly,
Viktor Devonne