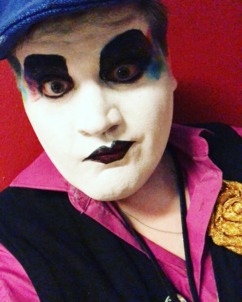 The back and forth continues. I get a little defensive when folk suggest that it may be hard on me, or that it is a struggle. But, well, it is.
My husband first moved to Southern California in 2017, and I have been back and forth since then. I now have a new 2 bedroom apartment with him (and Sammy, my cat--the newest resident of our home) that we just moved into on August 31st.
Presently, I am in New Jersey again, for another month while I get things together for more moving and more relocation, and also to do some gigs in Pittsburgh, Syracuse, Boston, and the usual NJ/NYC in the next 30 days. I haven't fully acclimated this week; I walked head first into a birthday show that was more emotional than I anticipated (performers I love dressed as me and did acts inspired by me or as me). My sleep has been awash with inconsistency.
Tonight, I learned that a friend from several years ago, heard intel on something I said about them (positive, ironically--but it was spun in a negative light) -- i.e. "they don't want you to work!" when I said "I love them so much; they are o stressed out--we'll be there for them when they come back up for air"... just a rough paraphrase that it makes minor sense to refute and go back on. But it just itches under my skin, as the intel provider, wanted to wreck that friendship -- that's all it was. And that's hard.
I want to return to CA as soon as I am for many reasons (husband, cat, new home to arrange) but the hardest pull has been the connections that I have in New Jersey and New York and the east coast in general. I've lost and made so many friendships and I fear a move will make me lose all that, as the uncertainty of the other coast has provided prospects but certainly nothing promised.
Nothing on the east coast was promised, either. I'm having a strange pro-mid-life mini-crisis considering how much time I have 'left,' what I'm doing with the present, and what I look like at the time of it all. But I keep getting reminded of beautiful, wonderful people who love me and are interested in what I do, which I haven't been as unsure of in years. I go through periods of the luxury that is "imposter syndrome" (aka you're good enough to have what you have but you have the time to worry you've not earned it). it's a real thing, but it's also such a bullshit cop-out. What have you earned? What have you deserved? Maybe nothing. Shut up, Viktor, and actually do the thing you're lucky enough to have been booked for.
Save the insecurity for when people stop emailing you back, no one texts you, and you have enough beard on your face to imply you definitely haven't been putting on your makeup in a while.
And also... slow down. and take all everything else in at the interim.
And go to bed when you're tired.
x