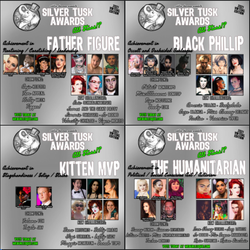 Traditionally, the Tusks have closed their night with a perfomer who isn't up for the awards that night. That was twofold. One, the perfomer was someone who wouldn't feel some sort of way at the end of the night by winning or not winning an award, and also I had the opportunity to include Jeez Loueez for the first show. When you have that opportunity, you take it.
Year two, the selection was Corvette LeFace, who was me immediately breaking my rule. Corvette had been in the show before but not for a year. Moreover, I saw the New York Burlesque Festival, witnessed her Godfather act (which ends with one of my favorite sound bytes from Cher) and the deed was done.
Third year, Fancy Feast was an obvious choice when reviewing my list of "who do I love that I haven't had yet?" Someone I'd worked with in multiple shows, it just hadn't happened yet. Scored.
Jo Weldon was a natural choice for the (as yet) final in-person Silver Tusk Awards. She was kind to me on a particularly rough night, and then thereafter made me feel feel like I was just as much a part of this scene as anyone else—not because she necessarily meant to or felt she had to, but because that's just her vibe. She was the first entertainer (and thus only) to close the night and also win a distinction that night—The Mentor Award, which I was finally able to provide to someone that meant so much to me even if she felt it was a minor act of kindness and solidarity to treat colleagues as equals. You'd be surprised, or not, how often that doesn't occur.